Events
Here you will find information on the events, workshops, public meetings and presentations we are organising or involved with. You can also follow us on  Twitter.
---
Forthcoming events
Cambridge Festival- Friday 17th March until Sunday 2nd April 2023
Have you ever wanted to take part in health research, but not sure what is involved or where to start looking?
We want to invite you (virtually) to our NIHR Cambridge Clinical Research Facility (CRF). Watch a day in the life video of what it's like to take part in one of our research studies and why you're extraordinary.  We also have a short questionnaire on your views on health research.
One of the largest festivals of its kind in the country, the annual Cambridge Festival, which features over 360 mostly free events, runs from Friday 17th March until Sunday 2nd April.
Coordinated by the University of Cambridge, the Festival aims to tackle some of the big questions of our age and seeks to find possible solutions. It also looks at less weighty subjects and includes an extensive series of events for children and families to enjoy. The full programme launches and bookings open on Monday 13th February 2023. https://www.cam.ac.uk/stories/cambridge-festival-2023
---
Previous events
---
PowerUp Festival! A health and wellbeing festival for families, parents, children & young people. Wednesday 25 January, 2023 16.30 to 20.00 at Netherhall school, Cambridge. in partnership with i3Parent hub, Cambridge Council Voluntary Services and Cambridge County Council. Booking essential: https://bit.ly/3GMZn7p  Free food, activities, advice & information.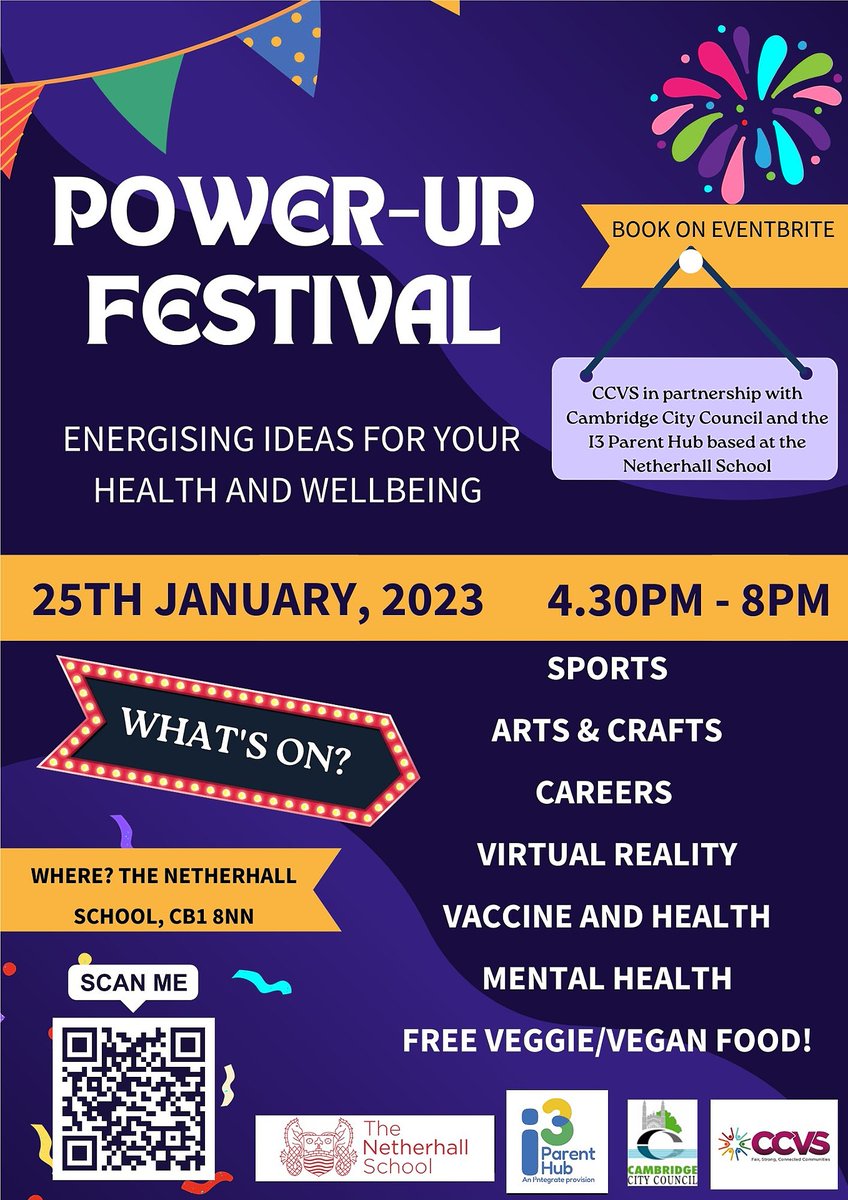 Cambridge Festival – 31st March-10 April 2022
What is the Cambridge Festival?
The new, interdisciplinary Cambridge Festival (replacing the Cambridge Science Festival and the Cambridge Festival of Ideas) will take place from 31 March – 10 April 2022 with a mixture on online, on-demand and in-person events covering all aspects of the world-leading research happening at Cambridge
There will still be strong and distinct platforms for the sciences and the arts, humanities and social sciences. And the Festival will include a uniquely Cambridge, eclectic mixture of over 350 events and activities: from panel discussions, film premieres, and self-guided walking tours, to 'try this at home' activities for the whole family. Topics cover the breadth of Cambridge research and will be presented across the Festival's four themes: Society, Health, Environment and Discovery!
*The full programme is due to be launched on 28th February via the Festival website: www.festival.cam.ac.uk Bookings open on the same day from 10am.
Keep up to date with the Festival on social media: Instagram @Camunifestivals | Facebook: @CambridgeFestival | Twitter: @Cambridge_Fest
International Clinical Trials Day 2021
International Clinical Trials Day is celebrated around the world in May to recognize the day that James Lind started what is often considered the first randomised clinical trial aboard a ship on May 20, 1747. His trial consisted of just 12 men, grouped into pairs and given a variety of dietary supplements from cider to oranges and lemons. The trial only lasted six days but, within that time, there was a noticeable improvement in the group eating the fruit, providing Lind with the evidence required of the link between citrus fruits and scurvy.
This year, the NIHR will be marking International Clinical Trials Day with a campaign to highlight the vital role patients and the public play in research, particularly in terms of their involvement over the last year.
The campaign will launch on Monday 17 May 2021 (ahead of the actual awareness day on Thursday 20 May) and will run for four weeks, mainly on social media platforms and in association with #BePartOfResearch.
Locally, we'll be getting involved via Twitter, and we'd love for you and your teams to get involved too!
Cambridge Festival 26 March – 4 April 2021
What did NIHR Cambridge CRF do during the Covid-19 pandemic?
Join us for the first online Cambridge Festival.
Click here to find out more about our role in health research during the pandemic, what it is like to be a research volunteer, how you can take part and we have a short new animation on health research that we would love to hear your views!
NIHR/Wellcome Trust CRF | | Welcome to NIHR Cambridge Clinical Research Facility, Cambridge Festival 2021
To keep up to date with all our events please follow us on Twitter
Cambridge Festivals website has the full time table and you can follow the link here and follow on twitter @Cambridge_Fest
---
Anthropometry Webinar: Obesity Phenotypes from BMI to MRI throughout the life course
The MRC Epidemiology Unit and the NIHR Cambridge BRC are planning to run the exciting event "Anthropometry Webinar: Obesity Phenotypes from BMI to MRI throughout the life course" in late 2020.
•Anthropometry webinar content
•Who the anthropometry webinar is for
By participating in this webinar you can achieve:
1. An understanding of the contributions of anthropometric and body composition measures to metabolic health outcomes.
2. Detailed knowledge of the different measurement tools available to assess obesity phenotypes in different age groups, including an understanding of their key features, strengths and limitations.
3. The ability to interpret body composition and growth data acquired and/or processed by the different methods covered in the course (see content)
4. Understanding of the decision-making process to select the most appropriate measurement tool to use in a specific study/setting.
5. An overview on how to harmonise body composition data acquired from different studies that have used different measurement tool
6. A certificate on the assessment of obesity phenotypes through the life course from the MRC Epidemiology Unit, University of Cambridge
To register your interest follow the weblink here, to the MRC website 
The Anthropometry webinar will be delivered by:
•Professor Tim Cole – Honorary Professor and growth modelling expert – UCL GOS Institute of Child Health
•Dr Emanuella De Lucia Rolfe – Anthropometry Specialist – NIHR Cambridge BRC Anthropometry Platform
•Professor Ken Ong – Consultant Paediatric Endocrinologist and Programme Leader – Early Life Aetiology and Mechanisms of Diabetes and Related Metabolic Disorders Programme, MRC Epidemiology Unit
•Richard Powell – Anthropometry Research Assistant – NIHR Cambridge BRC Anthropometry Platform
•Dr Alison Sleigh – MRI physicist, NIHR Cambridge Clinical Research Facility and Wolfson Brain Imaging Centre
•Dr Michelle Venables – Head of the Stable Isotope Laboratory – NIHR Cambridge BRC Nutritional Biomarker Laboratory
•Dr Laura Watson – Metabolic physiologist – NIHR Cambridge Clinical Research Facility
Cambridge Biomedical Campus on Virtual Tour
The next Cambridge Biomedical Campus on Virtual Tour event with the CRUK Cambridge Centre will feature Professor Rebecca Fitzgerald, from CUH, the MRC Cancer Unit and the CRUK Cambridge Centre.
Professor Fitzgerald will discuss her work on the early detection of cancer, including the development of the Cytosponge screening tool to identify those at greatest risk of oesophageal cancer.
The event will take place on Tuesday 29 September at 19:00. Register to attend here.
Cambridge Science Festival 2020
The Science Festival next year is taking place 9-22 March 2020- This event was unfortunately cancelled due to Covid-19, we plan to be back in 2021!
Diet Disco! How long does it take to burn off a bar of chocolate?
March 2019 saw the return of Cambridge Science Festival. After the success of the science detectives in 2018; this year, our contribution to the festival was via an interactive "Diet Disco"
Visitor's (predominantly school age children) heart rate was measured using a pulse oximeter on their finger, before and after dancing for 2 minutes. Each person had their choice of 1 out of 10 different songs. We then converted into their personal energy expenditure readouts.
Advice was then given on how much dancing would be required to burn off different types of food. Therefore making the connection between energy expenditure and what they ate.
We had displays that detailed how long you would have to dance for to burn off the energy in different food groups and some alcoholic drinks for the over 18s.
2750 members of the public attended this years' festival, we shared information about our metabolic studies [CRF149 and CRF400], and 29 contacted us afterwards for information on studies to take part in.
We can conclude that:
Baby Shark was the most popular tune selected!
People's heart-rates jumped most dramatically for Gangnam Style, with an average heart rate increase of 58 beats per minute!
You need to dance for about 45 minutes to burn off the energy in a Mars Bar.
---
 Is there truth in health stories? Become a health detective at the Science Festival 
Does an apple a day keep the doctor away or do you believe having a healthy body means having a healthy mind? How do we know that these health stories say what they mean or are they old wives tales? Cambridge researchers were able to help sort the truth from the myths.
The Cambridge Clinical Research Centre (CCRC) gave people the chance to become detectives, and investigate whether published health headlines are the real-deal or were some of them fake news.
Staff from the CCRC team, based on the Cambridge Biomedical Campus, were at the Guildhall in March 2018, as part of the festivities for the Cambridge Science Festival.
Their stall offered people the chance to inspect real news headlines to investigate if there was any truth in news stories by looking at the scientific evidence. It gave people the chance to sort out the real science from the many myths that have been created and an insight what researchers have to do when they are faced with important health questions that need solving.
The public were able to meet researchers and nurses from the CCRC and staff were able to talk about clinical trials.
The day gave people the opportunity to meet researchers and nurses from the CCRC who work on research studies to find new medicines and treatments. People were able to ask questions about clinical trials and how they can get involved.
---
Young people in research programme launches
Twenty sixth-formers (from six local colleges) joined in October and have enjoyed a tour of the CRF with research sister Caroline McMahon as she gave an overview and tour of the facility.
---
International Clinical Trials Day 2017
Staff from the CRF were at the Outpatient's Department providing the public with a range of information about clinical trials and getting involved in research.
---
 Children's board: We are listening event 2016
As part of the Children's Board, children were asked to develop their own social media strategy to help promote studies and engage the public
---
East of England Public Involvement Forum – 30 September 2015
The event was aimed at PPI representatives and organisations that involve patients and members of the public in their work.  The workshops covered a wide range of topics.
---
The Children's Board 'Have your say' event – 19 September 2015
This 'ideas' day was a chance for children and young people to tell researchers how to improve they way they communicate with young people and how to design research studies that will appeal to them. It took place in Cambridge on Saturday 19 September from 10am to 3.30pm, and was open to children and young people aged 8 to 16 years old.
---
'Find your voice: demystifying research and public involvement in research' – 18 May, 2 June, 16 June, 26 June, 13 July 2015
Patients, carers or member of the public who wanted to find out more about key aspects of research took part in a series of five workshops which provided a fantastic opportunity to do just that. These free events took place in Cambridge during May, June and July this year and the workshops helped members of the public and representatives of patients' groups to get to grips with some of the most important aspects of research.
---
International Clinical Trials Day
On 20 May 2015, staff from the Clinical Research Facility promoted their research and the 'OK to Ask' campaign on International Clinical Trials Day. Members of the public were told about opportunities to participate in the latest clinical studies and about how to get involved in shaping the research of the future. International Clinical Trials Day is celebrated around the world and commemorates the day James Lind started his famous trial on scurvy.
---
 Patient and Public Involvement Masterclass
On 14  May, the Clinical Research Facility joined forces with the Research Design Service for the East of England to run a 'masterclass' in patient and public involvement for researchers.
---
Cambridge Science Festival
Nearly 200 members of the public were recruited to a 'chocolate trial' as part of the Cambridge Science Festival on Saturday 14 March 2015.
The mock trial was run by Faye Forsyth (Research Nurse) and Justine Hill (PPI Lead) at the NIHR / Wellcome Trust Cambridge Clinical Research Facility (CRF).  The public were given a piece of chocolate (either plain or orange) and asked to compare its taste to their usual chocolate.  The idea was to give people an insight into what it is like to take part in a clinical trial.
For those who wanted to know more about a real CRF trial, Laura Watson (CRF Metabolic Physiologist) was on hand with a stall promoting the 'Fat, Fitness and Metabolism' study.
---
The Clinical Research Facility Goes Dementia-Friendly
Staff and researchers at the NIHR Wellcome Trust Cambridge Clinical Research Facility (CRF) undertook to become Dementia Friends at the unit's away-day at the end of January 2015. Dementia Friends is a national initiative run by the Alzheimer's Society and funded by the Government – it aims to maximise the awareness and understanding of dementia and help those with the condition live well for longer.
Dementia Friends Champion, Graeme Whippy delivered an insightful training session at the away-day.   At the end of the session, CRF staff made the commitment to wear a Dementia Friends badge and build a dementia-friendly unit.
---
 ..